Things are happening at Beacon!  Finally, after years of planning by many members of our congregation, hours of meetings and talks with architects, contractors, engineers, and utility companies, the first part of our building project is underway.
The asbestos abatement of the cottage took place Tuesday and Wednesday of this week, Nov 6 and 7, 2018.  Some of the floor tiles, the tile cement, roof cement, and some of the decorative siding had all been tested and discovered to contain asbestos.  Once these had been safely removed by a specialized team, we were cleared to proceed with the demolition of the cottage.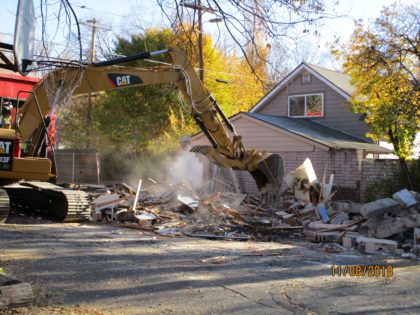 Most of the demolition of the cottage was completed on Thursday, Nov 8.
Carl Taylor and I watched as the cottage was scooped up and dropped into a huge truck.  It took two loads to haul it away.
A little more work will be done next week to carefully cap the sewer line that ran under the cottage, as it ties into our neighbor's sewer line and we need to not disturb it.

Part of the sewer system.
Carl Taylor and Terry Kressel (Loven Construction), watching the fun.
Theresa deBoer monitoring the cottage rubble.
This is what the cottage looks like now.