Social Justice Allies (SJA)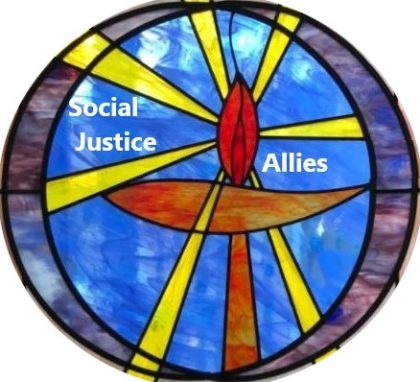 Formed following the inspirational Justice General Assembly in phoenix in June 2012, this groups intent is to address causes of human rights injustices. Beginning with research (reading, meeting with community leaders and members, offering Beacon adult education opportunities) and consulting members and friends of the Beacon community, the group has selected a few social justice issues to tackle. The committee collaborates with interfaith organizations in our area to coordinate action on social justice issues.  Contact SJA@Beaconuu.com for more information.
Click here for a full timeline of SJA's activities since inception.
Current SJA Projects
FAITHFUL DEMOCRACY
Get involved with Faithful Democracy, an organization bringing together people of diverse beliefs with a shared concern about the preservation of our democracy in the 21st century. The UUA and UUs for Social Justice are endorsers. You can use links on their website to access information, join initiatives, sign a Voter's Covenant, and email your senator about the "For the People" Voting Rights Act (timely and crucial!)
Together We Will, Flagstaff Postcard Writers weekly group
The postcard writers will be together every week on Wednesday at 7 PM on Zoom
Meeting ID: 841 1623 9939
Passcode: postcards
SIDE WITH LOVE ACTION CENTER 
The work that we do together to build a world in which all of us are free and thriving is interrelated. When we ground our spirits, grow our skills, and act strategically for justice in deep relationship with each other and our Movements, we choose to Side With Love.
Action Center is a place where we unite in work towards a world where we all thrive. Together we take action, Side With Love, and make deep impacts in this critical moment. Links for various action areas such as Democracy, LGBTQ and Gender Justice, and Climate Justice.