Social Justice Allies (SJA)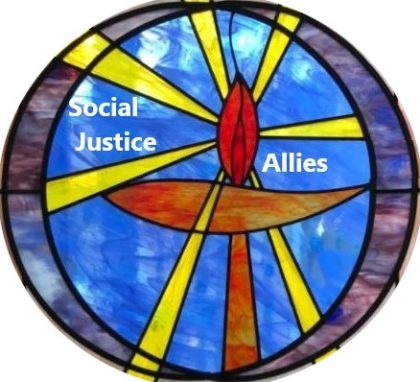 Formed following the inspirational Justice General Assembly in phoenix in June 2012, SJA focuses on  addressing causes of injustice. Beginning with research (reading, meeting with community leaders and members, offering Beacon adult education opportunities) and consulting members and friends of the Beacon community, the group has selected a few social justice issues to tackle. The committee collaborates with interfaith organizations in our area to coordinate action on social justice issues.
Reconfigured in 2021, SJA organizes12 Social Witness Events per year (about 1 per month). Each event includes a short presentation during a Beacon Sunday service, followed by an invitation to discuss the issue with the presenter afterwards. Each event addresses one issue related to the distribution of wealth, opportunities, and privileges within a society, including racism, land use planning, environmental justice, hunger, housing, poverty, immigration, climate change, gun violence, and animal welfare. Each Social Witness Event invites people to engage in a local event or effort in the immediate future. Although all social justice issues do require global work over decades, we believe that local and immediate action is the best way to help people engage in the larger struggle. Although an SJA member may deliver a Social Witness Event, we strive to invite non-members to Beacon to help us  connect to the larger local community and help the larger community connect with Beacon. We typically meet at 6:00 PM on the second Monday of each month to plan future Events. Please contact convener Paul Beier for information about participating in SJA and attending our meetings (currently on Zoom)  Paul.Beier@nau.edu
Click here for a full timeline of SJA's activities since inception.
Current SJA Projects – 2022
Author and Professor Cathy Small will be visiting us on Sunday, February 6, 2022
We encourage the Beacon UU community to read her book and participate in a discussion with her. Pia Driessen-Knittle is coordinating this effort as a member of the Social Justice Allies team. 
piadriessenknittle@gmail.com
Cathy Small is professor emerita of Anthropology at NAU. In "The Man in the Dog Park" published in 2020 by Cornell University Press, she shares insight into Flagstaff's homeless population through her personal relationship over 6 years with Ross Moore, a homeless man she met in the dog park at Thorpe Park.
"Spurred by a personal relationship with a homeless man who became her co-author, Cathy A. Small takes a compelling look at what it means and what it takes to be homeless. Interviews and encounters with dozens of homeless people lead us into a world that most have never seen. We travel as an intimate observer into the places that many homeless frequent, including a community shelter, a day labor agency, a panhandling corner, a pawn shop, and a HUD housing office." (Cornell University Press)
FAITHFUL DEMOCRACY
Get involved with Faithful Democracy, an organization bringing together people of diverse beliefs with a shared concern about the preservation of our democracy in the 21st century. The UUA and UUs for Social Justice are endorsers. You can use links on their website to access information, join initiatives, sign a Voter's Covenant, and email your senator about the "For the People" Voting Rights Act (timely and crucial!)
Together We Will, Flagstaff Postcard Writers weekly group
The postcard writers will be together every week on Wednesday at 7 PM on Zoom
Meeting ID: 841 1623 9939
Passcode: postcards
SIDE WITH LOVE ACTION CENTER 
The work that we do together to build a world in which all of us are free and thriving is interrelated. When we ground our spirits, grow our skills, and act strategically for justice in deep relationship with each other and our Movements, we choose to Side With Love.
Action Center is a place where we unite in work towards a world where we all thrive. Together we take action, Side With Love, and make deep impacts in this critical moment. Links for various action areas such as Democracy, LGBTQ and Gender Justice, and Climate Justice.